To access key features of this site, you must have JavaScript enabled.

Giving is part of who we are
That is why we created Thirty-One Gives, our charitable program that works to empower girls, women and families by helping them build the confidence and self-esteem needed to live a purposeful, thriving life. Since 2012, Thirty-One Gives has donated $100 million in product and cash to charitable organizations that share the Gives mission.
February is International
Boost Your Self-Esteem Month!
We at Thirty-One Gives believe that confident girls and women can lead more purposeful, thriving lives. That's why we're proud to partner with community organizations that help girls across the U.S. and Canada build their self-esteem! From coaching to mentoring to advocating – or simply Rounding Up when you shop – you can join Girls on the Run, Girl Talk, Ruling Our eXperiences and Thirty-One in helping empower girls and women this month. Visit our Ideas We Love blog for ways to get involved!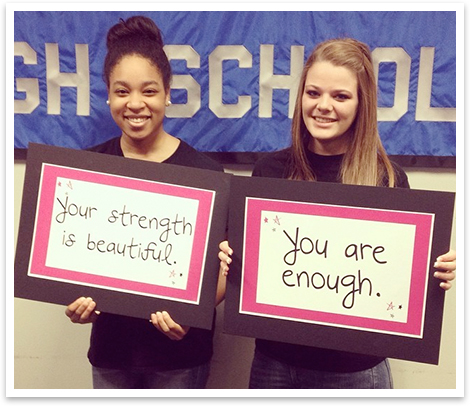 Girls on the Run was a great life-changing decision. When I first started GOTR, I thought it was all about running, but it's really about

making the right decisions in life.

Spirit Jade

Student & Girls on the Run member

Read More

Many people thought I was perfect,

that everything came easy to me. Now I am more like the person everyone thought I was before: involved with life, passionate, happy.

Sarah Leonard

Student & former patient in the Dialectical Behavioral Therapy program

Read More

At our year-end celebration, I was amazed at the growth of the girls. One girl said she used to be insecure, but now she's not afraid to speak up. Another student who was being treated for self-harm, said

Girl Talk Is Her Only Safe Space

Jathusha Mahenthirarajan

Student & Girl Talk National Leader of the Year Founded Ontario, Canada's first Chapter

Read More

Improving one's credit score doesn't just mean better rates on borrowed money or credit cards – for many survivors, it means access to very basic needs, such as

safe housing and employment.

Kara Rhodebeck

Economic Justice and Microloans Coordinator National Network to End Domenstic Violence

Read More

Many girls are struggling and I want to do anything I can to help them, no matter how small. Supporting middle school girls with a 'big sister' mentor when they need it the most,

goes farther than anyone could imagine.

Madison Magnus

Student & Girl Talk Leader

Read More

I was finding it hard to carry my prenatal and malnutrition supplies by hand. I am happy to now have a tote bag to protect them, so I can help

reach many mothers and children.

Renathe Kabageni

World Vision Volunteer, Burundi

Read More

Our family went through a house fire and our son's leukemia diagnosis in the same year. It was a blessing to stay at RMHCNA during his treatment. Our son's illness felt like a nightmare, but when we woke up there were

hundreds of people ready to support us.

Cartwright Family

Ronald McDonald House
Northern Alberta, Canada

Read More

There's a lot of misunderstanding around Obsessive Compulsive Disorder – that it's a charming personality quirk. The truth is, it's scary and often debilitating

but help is available.

Charlotte

Children's Hospital at London Health Sciences Center

Read More
Our Partnerships
We're proud to partner with many nonprofit organizations that share our mission. View All
Director Brishundra McGrier along with members of Home Office Staff attended the Dress for Success: Beyond the Suit Luncheon in Columbus, Ohio. The Luncheon celebrated 10 years of encouraging and empowering more than 12,000 women.

Senior Executive Director Kaine Story and her local Girl Talk chapter at East Limestone High School in Athens, Alabama sponsored a "purple" day for raise awareness in her community for Domestic Violence.

Consultants in Ontario held a fundraiser to support to the London Ronald McDonald House Family Room in East London, Ontario by providing thermal totes and a little ice cream to families in need.

Senior Consultant Kerry Morrice from Minnedosa, Manitoba held a donated cancer care bags filled with goodies like coloring books, bubbles, lip balms, blankets and so much more to patients in need.

Director Lori Minnick of Crestview, Florida donated 56 bags care bags filled with toiletry essentials to a local women's shelter in her community that is committed to helping keep women safe who have suffered from domestic violence and other forms of abuse.

Consultant Jaqueline Federico of Toledo, Ohio delivered care packages filled with activities to keep sick children occupied during their stay at the hospital.