To access key features of this site, you must have JavaScript enabled.
You are not shopping with one of your consultant's parties. Click on My Parties above to see your consultant's open parties.
Design Gallery
The perfect gift? Just name it! Add a personal touch to your favorite item with a variety of design options.
Graphic Prints
Make your home your canvas – or create the perfect gift – with custom pillows and wall art featuring our printed personalization designs. ​
Make a statement
These designs are available on Statement Canvas Wall Art, Pillow, Shopper, Mini Shopper and Zip-Top Pouch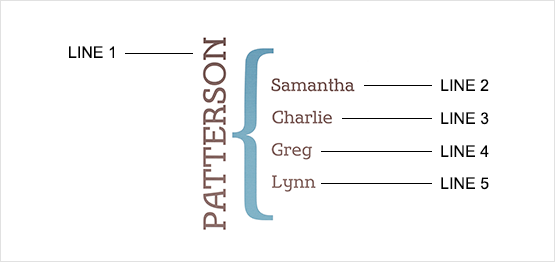 About Us
Line 1: Required, 20 character limit, uppercase
Lines 2-3: Required, 20 character limit per line, uppercase & lowercase
Lines 4-6: Optional, 20 character limit per line, uppercase & lowercase
Select one color for bracket and one color for all text
Fonts as shown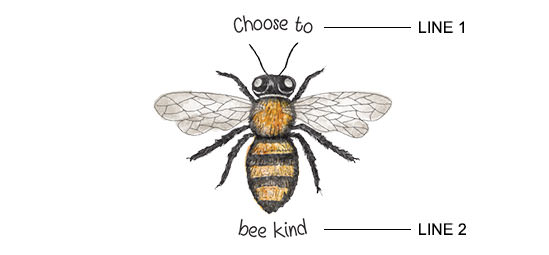 Bee
Lines 1-2: optional, up to 20 characters per line
Available with no text
Fonts & colors as shown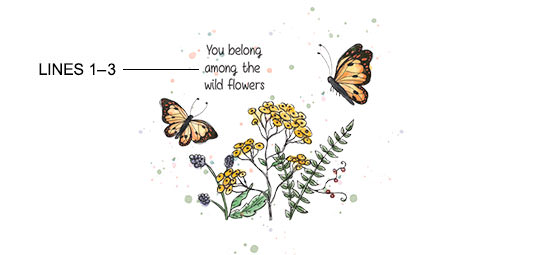 Butterfly Garden
Lines 1-3: optional, up to 20 characters per line
Available with no text
Fonts & colors as shown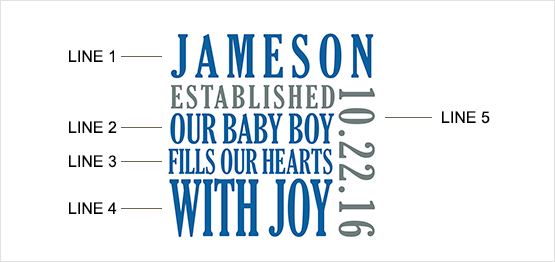 Established
Lines 1-4: 20 character limit per line, uppercase
Line 5: Date in format shown
Select one color for Lines 1-4
Select one color for "ESTABLISHED" and Line 5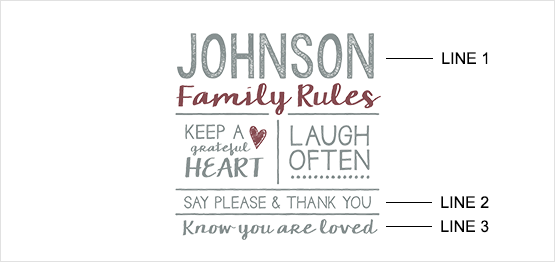 Family Rules
Line 1: Required, 16 character limit, uppercase
Line 2: Optional, 30 character limit, uppercase
Line 3: Optional, 30 character limit, uppercase & lowercase
If text is not chosen for lines 2 & 3 default text shown will be used
Select one color for "Family Rules" and Heart Icon
Select one color for text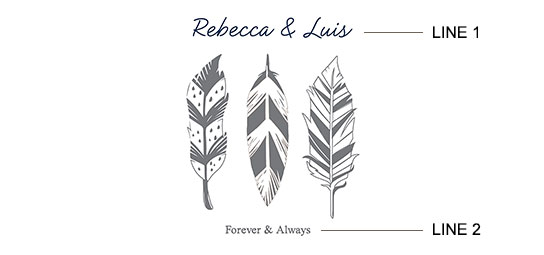 Feather Trio
Line 1: Optional, 20 character limit, uppercase & lowercase
Line 2: Optional, 20 character limit, uppercase & lowercase
Select one color for Line 1
Available with no text
Fonts as shown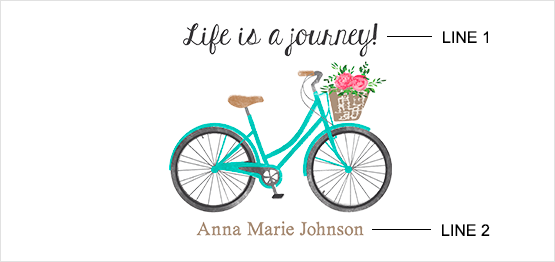 Floral Bike
Line 1: Optional, 20 character limit, uppercase & lowercase
Line 2: Optional, 20 character limit, uppercase & lowercase
Fonts & colors as shown
Available with no text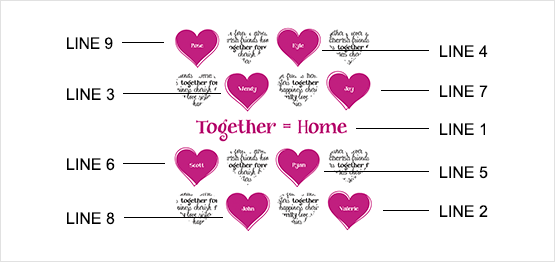 Full Hearts
Line 1: Required, 20 character limit, uppercase & lowercase
Line 2: Required, 12 character limit, uppercase & lowercase
Lines 3-9: Optional, 12 character limit, uppercase & lowercase
Select one color for Lines 1-9
Select one color for remaining hearts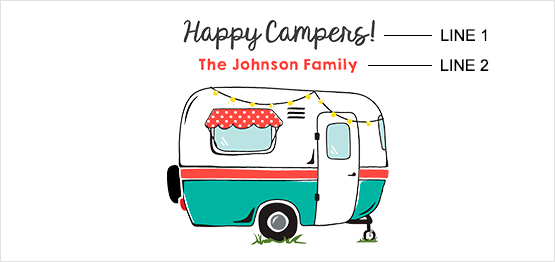 Retro Camper
Line 1: Optional, 20 character limit, uppercase & lowercase
Line 2: Optional, 20 character limit, uppercase & lowercase
Fonts & colors as shown
Available with no text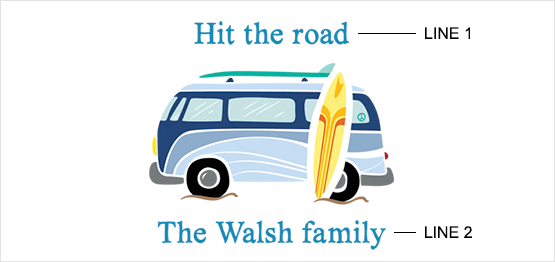 Retro Van
Lines 1-2: Optional, up to 20 characters per line
Fonts & colors as shown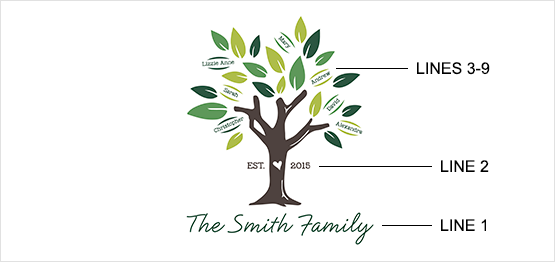 Spring Family Tree
Line 1: Required, 20 character limit, uppercase & lowercase
Line 2: Optional, Choose 4 numbers, 0-9
Lines 3-9: Optional, 12 character limit, uppercase & lowercase
Fonts & colors as shown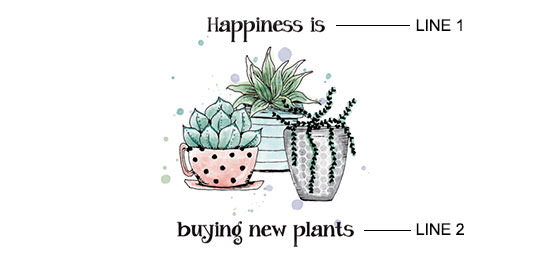 Succulent Garden
Lines 1-2: Optional, up to 20 characters per line
Available with no text
Fonts & colors as shown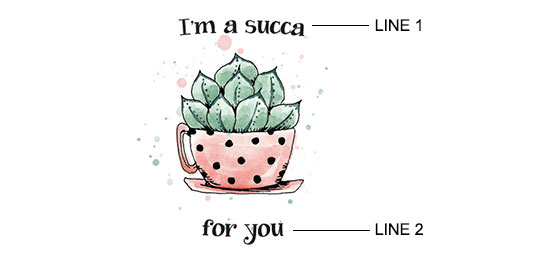 Succulent Teacup
Lines 1-2: Optional, up to 20 characters per line
Available with no text
Fonts & colors as shown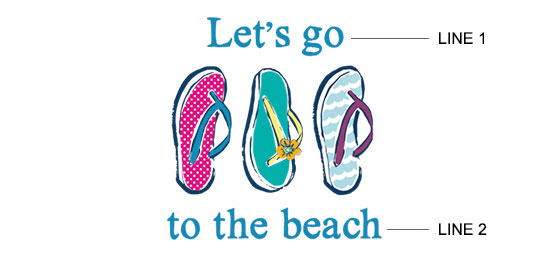 Summer Sandals
Lines 1-2: Optional, up to 20 characters per line
Available with no lines of text
Fonts & colors as shown
These designs are available on Statement Canvas Pillow, Shopper, Mini Shopper and Zip-Top Pouch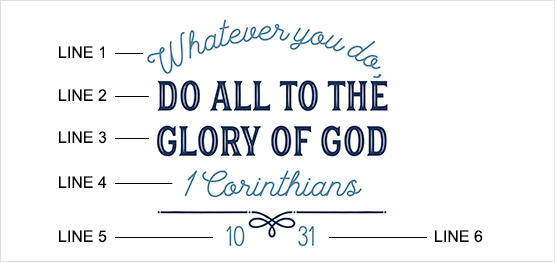 Flourish Message
Lines 1-4 required, up to 16 characters per line
Lines 2 & 3, uppercase only
Line 5 & 6 optional, up to 2 numbers per line
If line 5 is chosen, line 6 is required
Choose one color for lines 1, 4, 5 & 6, and a second color for lines 2, 3 & ribbon detail
Fonts as shown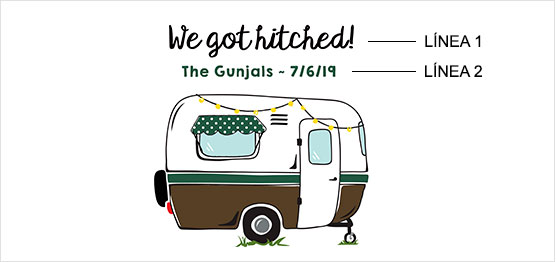 Retro Camper Remix
Line 1: Optional, 20 character limit, uppercase & lowercase
Line 2: Optional, 20 character limit, uppercase & lowercase
Fonts as shown
Available with no text
Choose one color for line 2 of text and camper details and a second color for bottom of camper
These designs are available on Statement Canvas Pillow, Shopper and Mini Shopper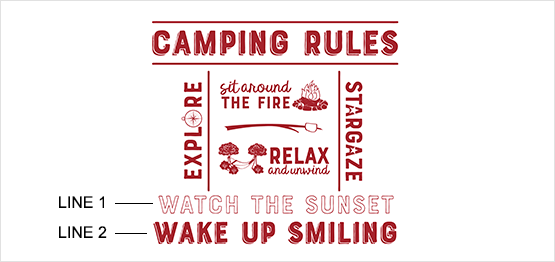 Camping Rules
Line 1 optional; up to 20 uppercase characters
Line 2 optional; up to 20 uppercase characters
Available with no text
If one line is chosen, text will default to top line and font
Choose one color for the entire design
Fonts as shown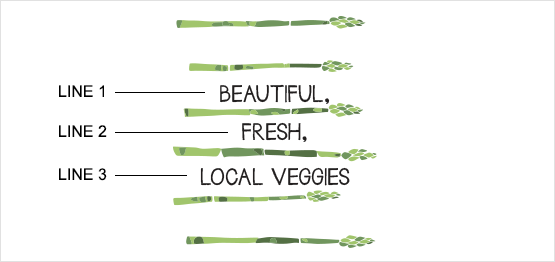 Asparagus Bunch
Lines 1-3 optional, up to 16 uppercase characters per line
Available without text
Fonts and colors as shown
Cow Quartet
Lines 1 & 2 optional, up to 16 uppercase characters per line
Available without text
Choose one color for lines 1 & 2 of text and a second color for cows
Fonts as shown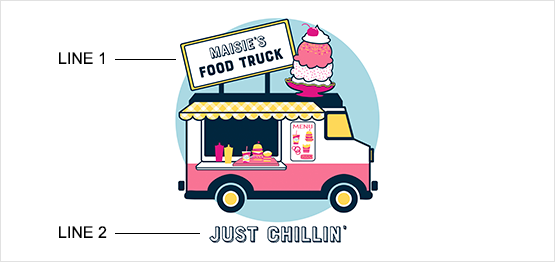 Food Truck Fun
Line 1 required, up to 12 uppercase characters
Line 2 optional, up to 16 uppercase characters
Fonts and colors as shown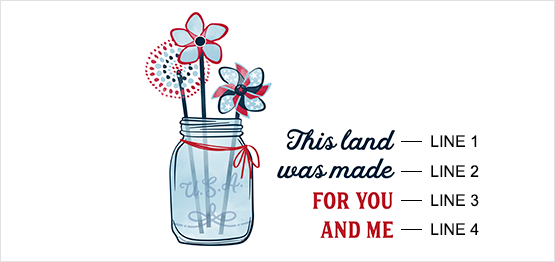 Pinwheel Jar
Available with no text
If text is chosen, Lines 1-4 required
Lines 1 & 2, up to 16 characters per line
Lines 3 & 4, up to 16 uppercase characters per line
Fonts and colors as shown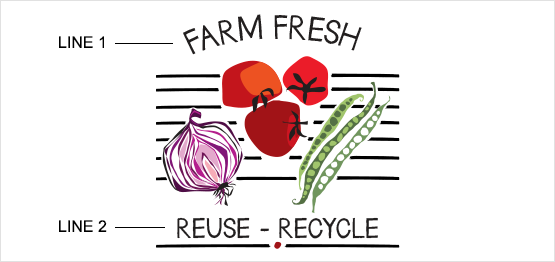 Veggie Patch
Available without text
If text is chosen, lines 1 & 2 required, up to 16 uppercase characters per line
Fonts and colors as shown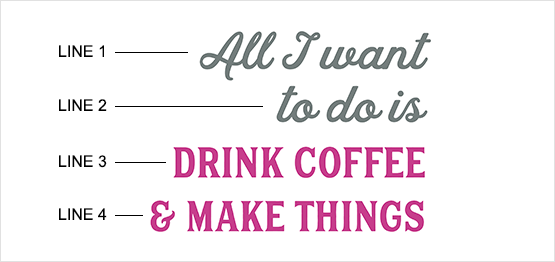 Vintage Message
Lines 1-4 required
Lines 1 & 2, up to 16 characters per line
Lines 3 & 4, up to 16 uppercase characters per line
Choose one color for lines 1 & 2 of text, and a second color for lines 3 & 4 of text
Fonts as shown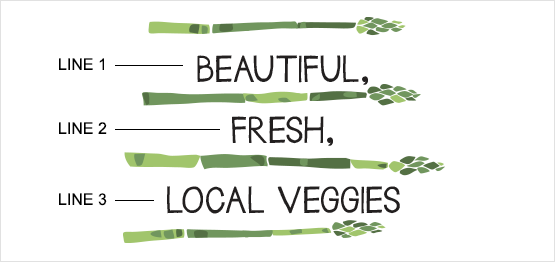 Asparagus Quartet
Available without text
If text is chosen, lines 1-3 required, up to 16 uppercase characters per line
Available without text
Fonts and color as shown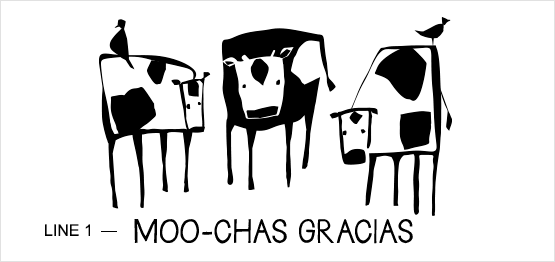 Cow Trio
Line 1 optional, up to 16 uppercase characters
Available without text
Choose one color for text and a second color for cow
Fonts as shown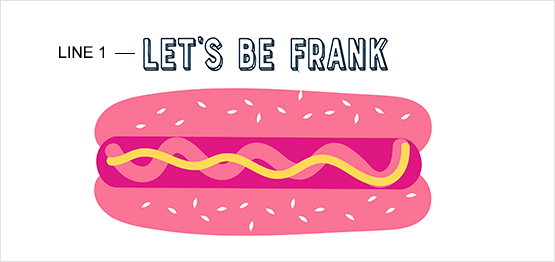 Hot Dog
Line 1 optional, up to 16 uppercase characters
Available without text
Fonts and color as shown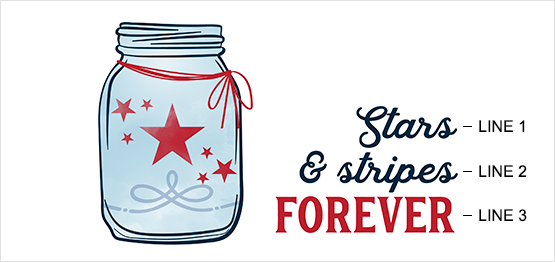 Jar Vintage Message
Available without text
If text is chosen, Lines 1-3 required
Lines 1 & 2 up to 16 characters per line
Line 3, up to 16 uppercase characters
Fonts and color as shown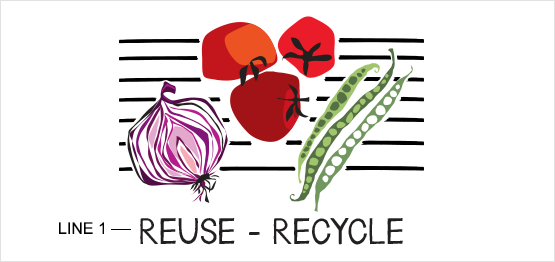 Mini Veggie Patch
Line 1 optional, up to 16 uppercase characters
Available without text
Fonts and colors as shown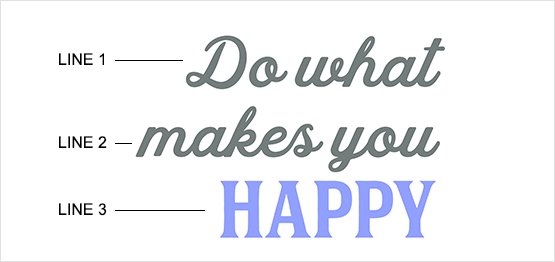 Mini Vintage Message
Lines 1 & 2 required, up to 16 characters per line
Line 3 required, up to 16 uppercase characters
Choose one color for lines 1 & 2 of text and a second color for line 3 of text
Fonts as shown