To access key features of this site, you must have JavaScript enabled.

Giving is part of who we are
That's why we created Thirty-One Gives, our charitable program that works to empower girls, women and families by helping them build the confidence and self-esteem needed to live a purposeful, thriving life. Since 2012, Thirty-One Gives has donated $100 million in product and cash to charitable organizations that share the Gives mission.
Round Up! to Raise Love for Ronald McDonald House Charities®
For the month of August, when you shop Thirty-One you will have the option to Round Up! your order to help Raise Love for Ronald McDonald House Charities! In addition to donating more than 600,000 welcome bags, we have been proud to partner with RMHC® to provide more than 16,250 family nights at Ronald McDonald Houses to families in the U.S. and Canada!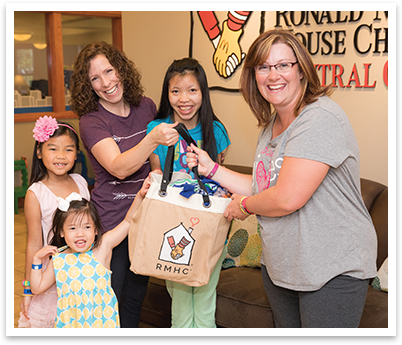 Our Partnerships
We're proud to partner with many nonprofit organizations that share our mission. View All
Senior Director Lynda Fraser and her team dropped off 100 care pouches to the YWCA for the Women's Transitional Program in Hamilton, ON. Each Zipper Pouch was filled with a toothbrush, shampoo and other toiletry items.

Director Hope Wissel filled Littles Carry-All Caddys with pampering products and donated them to Dottie's House in Brick Township, New Jersey for Mother's Day. Dottie's House is a transitional housing facility designed to aid women and children who have survived domestic violence.

As a part of Thirty-One's baby shower activation at many Ronald McDonald Houses across the U.S. and Canada, Senior Executive Director Gretchen Manmiller delivered diaper bags and coolers to NICU moms at Saint Christopher's Hospital in Philadelphia, PA.

Consultant Kathy Nobles gifted baskets to all 18 school crossing guards in her town of Tehachapi, CA to show appreciation and thank them for helping children get home safely.

Senior Director Tara Piotrowicz knows what it's like to be the mom of a NICU baby. This year, she blessed 60 families at St. Mary's Hospital NICU in Rochester, MN with thermal totes filled with a crochet baby hat and blanket.

Candace Maruk, Thirty-One Director and Community Connector for the Alberta Children's Hospital in Calgary, AB, initiated a "Love Bin" mission at one of her local nursing homes. 220 seniors received an Oh-Snap Bin filled with necessities and a homemade piece of art.