To access key features of this site, you must have JavaScript enabled.
Today Show Toy Drive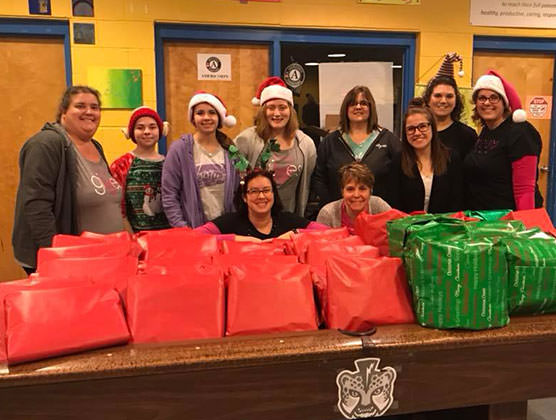 Thirty-One Gifts Delivers Today Show Toy Drive Donation to Boys & Girls Clubs throughout U.S.
COLUMBUS, OHIO (DECEMBER 22, 2017) – Thousands of holiday smiles are being delivered to Boys & Girls Clubs by Thirty-One Gifts representatives who are distributing proceeds from the NBC Today Show Toy Drive. Thirty-One appeared on the TV show November 28 representing the Direct Selling Association's support of the show's toy drive. Thirty-One, a direct-selling company, provided 150,000 products to the toy drive to be distributed throughout the U.S. by their independent sales Consultants.
The products are being delivered by members of the Thirty-One Gives Care Council, a group of independent sales Consultants that serves as the philanthropic voice of the company's 67,400 sales Consultants. They select nonprofit partners across the U.S. and Canada and determine how to allocate contributions made by the company.
"I'm very honored to be a member of the Thirty-One Gives Care Council, and along with the other sales Consultants, I'm thrilled to deliver thousands of our products to this very deserving nonprofit organization," said Thirty-One National Executive Director Kim Washington of New Port Richey, Florida. "We always try to involve our sales field directly in our giving initiatives and we try to support the communities where they live and work."
Thirty-One's product donation is going to 17 Boys & Girls Clubs and includes backpacks, purses and wallets, totes, thermal bags and more. Many of their products are ideal for teens and tweens – an often-overlooked age segment during holiday toy drives.
Boys and Girls Clubs serves children of all ages, providing safe environments for youth. The gifts provide children with recognition for personal, social and academic accomplishments, and make them feel special.
Thirty-One Gifts is one of the world's largest direct-selling organizations and is dedicated to giving back. Their charitable program, Thirty-One Gives, works to empower girls, women and families by helping them build the confidence and self-esteem needed to live a purposeful, thriving life. Since 2012, Thirty-One Gives has donated $100 million in product and cash to charitable organizations that share the Gives mission.
The toy drive donation is being delivered to the following Boys and Girls Clubs:
Boys and Girls Club of Lincoln/Lancaster County; Lincoln, Neb.
Boys & Girls Clubs of Oakland & Macomb Counties; Royal Oak, Mich.
Boys & Girls Club of Southeastern Connecticut; New London, Conn.
Boys and Girls Clubs of Fort Valley; Fort Valley, Ga.
Boys & Girls Clubs of the Suncoast; Tarpon Springs, Fla.
Boys and Girls Club of Greater Sacramento; Sacramento, Calif.
Boys and Girls Club of West Chester/Liberty; West Chester, Ohio
Boys & Girls Club of Roswell; Roswell, N.M.
Boys & Girls Clubs of Greater Fort Worth; Fort Worth, Texas
Boys & Girls Clubs of the Virginia Peninsula; Hampton, Va.
Boys & Girls Clubs of the Rogue Valley; Talent, Ore.
Olivet Boys & Girls Club of Reading & Berks County; Reading, Pa.
Boys & Girls Clubs of Columbus; Columbus, Ohio
Boys & Girls Club Collier County; Naples, Fla.
Boys & Girls Club of America Lee County; Ft. Myers, Fla.
Boys & Girls Clubs of the Foothills; Black Diamond, Alberta, Canada
Boys & Girls Club of Niagara; Niagara Falls, Ontario, Canada