To access key features of this site, you must have JavaScript enabled.

Giving is part of who we are
That's why we created Thirty-One Gives, our charitable program that works to empower girls, women and families by helping them build the confidence and self-esteem needed to live a purposeful, thriving life. Since 2012, Thirty-One Gives has donated $100 million in product and cash to charitable organizations that share the Gives mission.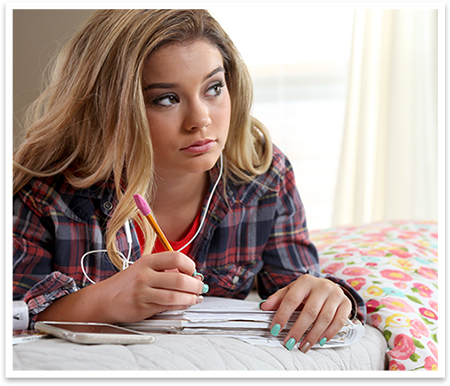 Girls on the Run was a great life-changing decision. When I first started GOTR, I thought it was all about running, but it's really about

making the right decisions in life.

Spirit Jade

Student & Girls on the Run member

Read More

I want others who may be out there struggling to know they are not alone, and

there is hope for recovery.

Chloe

Patient Ambassador

Read Chloe's story

At our year-end celebration, I was amazed at the growth of the girls. One girl said she used to be insecure, but now she's not afraid to speak up. Another student who was being treated for self-harm, said

Girl Talk Is Her Only Safe Space

Jathusha Mahenthirarajan

Student & Girl Talk National Leader of the Year Founded Ontario, Canada's first Chapter

Read More

Improving one's credit score doesn't just mean better rates on borrowed money or credit cards – for many survivors, it means access to very basic needs, such as

safe housing and employment.

Kara Rhodebeck

Economic Justice and Microloans Coordinator National Network to End Domenstic Violence

Read More

Many girls are struggling and I want to do anything I can to help them, no matter how small. Supporting middle school girls with a 'big sister' mentor when they need it the most,

goes farther than anyone could imagine.

Madison Magnus

Student & Girl Talk Leader

Read More

I was finding it hard to carry my prenatal and malnutrition supplies by hand. I am happy to now have a tote bag to protect them, so I can help

reach many mothers and children.

Renathe Kabageni

World Vision Volunteer, Burundi

Read More

Our family went through a house fire and our son's leukemia diagnosis in the same year. It was a blessing to stay at RMHCNA during his treatment. Our son's illness felt like a nightmare, but when we woke up there were

hundreds of people ready to support us.

Cartwright Family

Ronald McDonald House
Northern Alberta, Canada

Read More

There's a lot of misunderstanding around Obsessive Compulsive Disorder – that it's a charming personality quirk. The truth is, it's scary and often debilitating

but help is available.

Charlotte

Children's Hospital at London Health Sciences Center

Read More
Our Partnerships
We're proud to partner with many nonprofit organizations that share our mission. View All
Consultant Tara Steinhorst donated over 100 totes this past year to four different children's hospitals around her local area in Ashwaubenon, Wisconsin.

Consultant Amber Knapp of Mauldin, South Carolina delivered gifts to the Shriners Children's Hospital in South Carolina as a result of a 2017 Christmas fundraiser.

Executive Director Tiffany Wellinghoff and her team collected over 220 winter clothing items and accessories during Product Premiere to donate to The Warrior Closet, a local Warren County program in her school district.

Director Brishundra McGrier from Columbus, Ohio and a few of her team members volunteered at their local Girls and Boys Club wrapping gifts and spending time with children in the program.

Consultant Shari Drummelsmith from Dutton, Ontario delivered 40 Littles Carry-All Caddies filled with toys and activities for children at the London Children's Foundation that will be later dropped off at the London Children's Hospital.

Senior Director Sarah Degrace, along with her team, handed out 105 Littles Carry-All Caddies at a local senior center in Whitby, Ontario.