To access key features of this site, you must have JavaScript enabled.

Party. Earn. Grow.
StartSwell is a program for new Consultants that allows you to earn amazing rewards and develop the habits of a successful business – beginning the day you become a Thirty-One Consultant!
StartSwell gives you the opportunity to customize your business any way you want with free products and business supplies. Here's how it works:
Your first 120 days
Your first 120 days as a Consultant are into four 30-day periods. When you submit $500 or more in sales, or Personal Volume, during any 30-day period, you will receive a 25% business credit IN ADDITION TO the 25% commission earned on every product sold.
This business credit can be used on ANY product (except Hostess Exclusives) or Business Supplies. The best part is, there is NO limit on how much credit you can earn!
StartSwell gives you the flexibility to purchase the products you and your Customers love the most – and gives your business a strong start along the way!
Webinar
Learn more about the Thirty-One opportunity – join us for an upcoming New Consultant Webinar!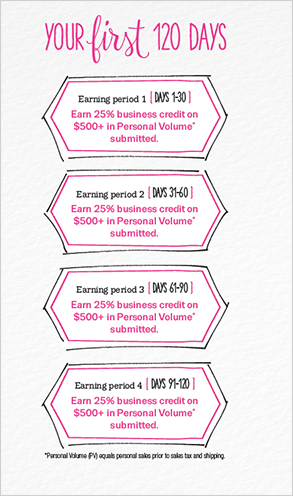 Click to enlarge
1. Personal Volume (PV) equals personal sales prior to sales tax and shipping.