To access key features of this site, you must have JavaScript enabled.

Giving is part of who we are
That's why we created Thirty-One Gives, our charitable program that works to empower girls, women and families by helping them build the confidence and self-esteem needed to live a purposeful, thriving life. Since 2012, Thirty-One Gives has donated $100 million in product and cash to charitable organizations that share the Gives mission.
Thirty-One is honored to partner with World Vision, a global Christian humanitarian organization. World Vision supports children, families and their communities to reach their full potential by tackling the causes of poverty and injustice. One of the many ways we partner with World Vision is by building Hope Kits filled with personal necessities, providing hope and dignity to women escaping abuse, poverty or domestic violence. This year at Thirty-One's annual Conference, our Consultants will work as a team to build more than 2,000 Hope Kits. We invite you to explore how you can partner with World Vision to find ways to give back as a team. Visit their website for more information on how you and your family, colleagues, church or friends can come together to support this organization.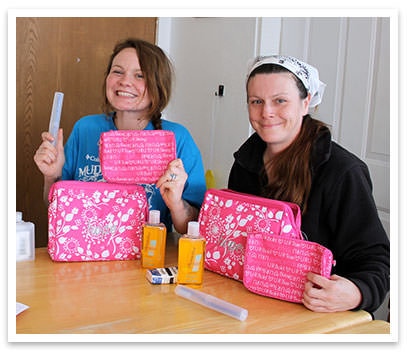 Girls on the Run was a great life-changing decision. When I first started GOTR, I thought it was all about running, but it's really about

making the right decisions in life.

Spirit Jade

Student & Girls on the Run member

Read More

I want others who may be out there struggling to know they are not alone, and

there is hope for recovery.

Chloe

Patient Ambassador

Read Chloe's story

At our year-end celebration, I was amazed at the growth of the girls. One girl said she used to be insecure, but now she's not afraid to speak up. Another student who was being treated for self-harm, said

Girl Talk Is Her Only Safe Space

Jathusha Mahenthirarajan

Student & Girl Talk National Leader of the Year Founded Ontario, Canada's first Chapter

Read More

Improving one's credit score doesn't just mean better rates on borrowed money or credit cards – for many survivors, it means access to very basic needs, such as

safe housing and employment.

Kara Rhodebeck

Economic Justice and Microloans Coordinator National Network to End Domenstic Violence

Read More

Many girls are struggling and I want to do anything I can to help them, no matter how small. Supporting middle school girls with a 'big sister' mentor when they need it the most,

goes farther than anyone could imagine.

Madison Magnus

Student & Girl Talk Leader

Read More

I was finding it hard to carry my prenatal and malnutrition supplies by hand. I am happy to now have a tote bag to protect them, so I can help

reach many mothers and children.

Renathe Kabageni

World Vision Volunteer, Burundi

Read More

Our family went through a house fire and our son's leukemia diagnosis in the same year. It was a blessing to stay at RMHCNA during his treatment. Our son's illness felt like a nightmare, but when we woke up there were

hundreds of people ready to support us.

Cartwright Family

Ronald McDonald House
Northern Alberta, Canada

Read More

There's a lot of misunderstanding around Obsessive Compulsive Disorder – that it's a charming personality quirk. The truth is, it's scary and often debilitating

but help is available.

Charlotte

Children's Hospital at London Health Sciences Center

Read More
Our Partnerships
We're proud to partner with many nonprofit organizations that share our mission. View All
Director Karen Cormack delivered 20 chemo comfort totes filled with socks, blankets, handmade hats and other goodies to an American Cancer Society Hope Lodge in St. Louis, Missouri.

Senior Director Robyn Ochoa-Costa of Clovis, New Mexico volunteered at Home Office to build Hope Kits with essential supplies to deliver to Houston for disaster relief efforts.

Director Melissa Johnson of Brewster, New York began a community drive in 2016 to supply chemo care bags to patients undergoing chemotherapy treatments. Thus far, she has donated over 130 bags filled with gifts and necessities to patients at the Dyson Center for Cancer Care in Poughkeepsie.

Executive Director Angela Small Sekeris is a Bluewater Health staff member of Ontario, Canada. She donated $215 to the Do It For Sarnia campaign, benefitting mental health and addiction services at Bluewater Health.

Director Amanda Kinder delivered 80 care bags to Harmony House in Huntington, West Virginia, an organization that provides basic resources and housing to the homeless.

Senior Consultant Heather O'Rourke and team collected donations to fill Cinch Sacs and donated 166 bags to CS Mott Children's Hospital in Ann Arbor, Michigan.