To access key features of this site, you must have JavaScript enabled.
Design Gallery
The perfect gift? Just name it! Add a personal touch to your favorite item with a variety of design options.
Graphic Prints
Make your home your canvas - or create the perfect gift - with custom pillows and wall art featuring our printed personalization designs.
New designs and fall exclusives are here!
Create a statement piece with unique designs that help you tell your story.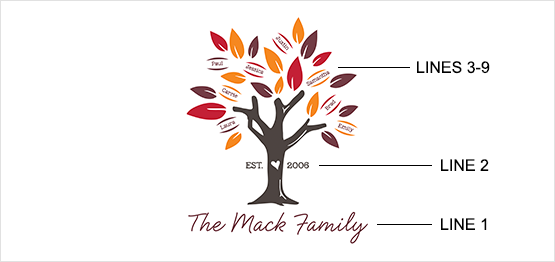 Fall Family Tree
Line 1: Required, 20-character limit, uppercase
Line 2: Optional, Choose 4 numbers, 0-9
Lines 3-9: Optional, 12 character limit, uppercase & lowercase
Fonts & colors as shown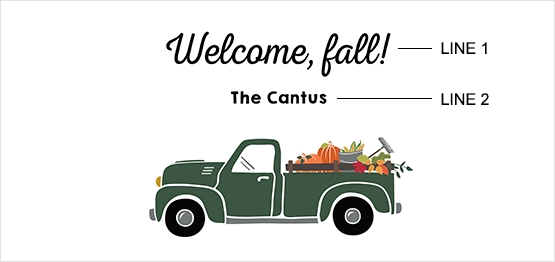 Fall Truck
Lines 1-2: Optional, 20 character limit, uppercase & lowercase
Available with no text
Fonts & colors as shown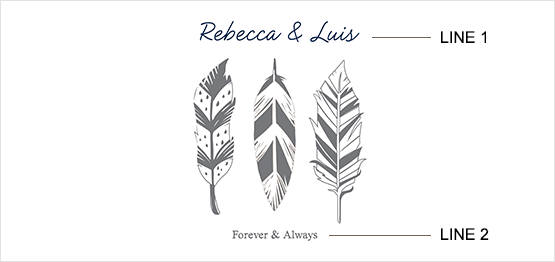 Feather Trio
Line 1: Optional, 20 character limit, uppercase & lowercase
Line 2: Optional, 20 character limit, uppercase & lowercase
Select one color for Line 1
Available with no text
Fonts as shown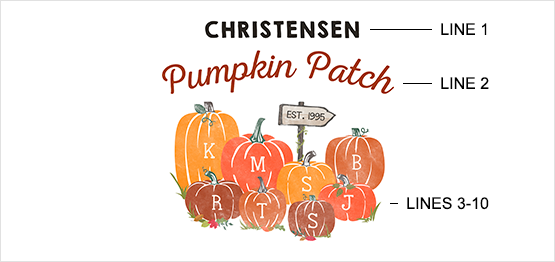 Pumpkin Patch
"Pumpkin Patch" is set text
Line 1: Required, 20-character limit, all uppercase
Line 2: Required, 10-character limit, all uppercase
Lines 3-4: Required, choose one letter or number
Lines 5-10: Optional, choose one letter or number
Fonts & colors as shown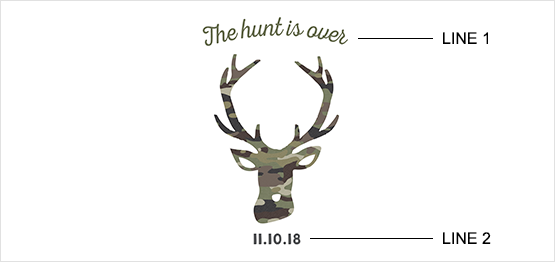 Camo Crosshatch Deer
Lines 1-2: Optional, 20 character limit, uppercase & lowercase
Available with no text
Fonts & colors as shown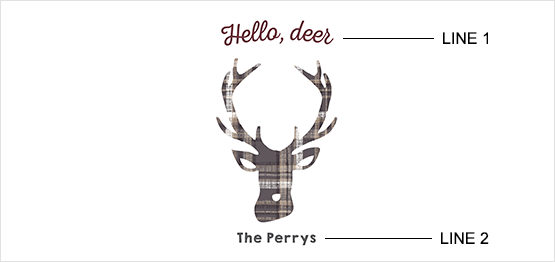 Cozy Plaid Deer
Lines 1-2: Optional, 20 character limit, uppercase & lowercase
Available with no text
Fonts & colors as shown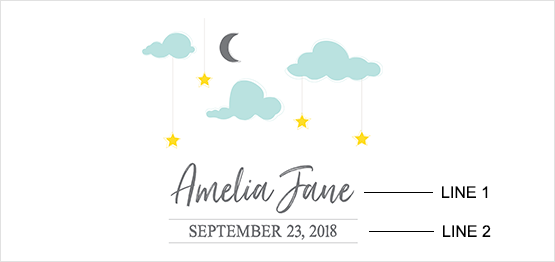 Lullaby Clouds
Line 1: Required, 20 character limit, uppercase & lowercase
Line 2: Required, 20 character limit, all uppercase
Fonts & colors as shown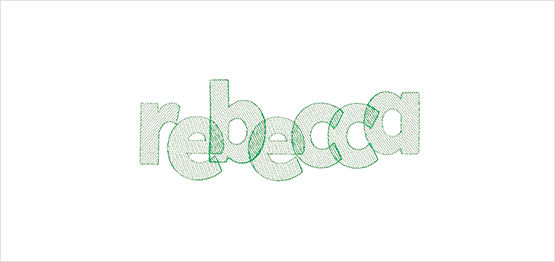 Leapin' Letters
Available with one line of text, 10 character limit, lowercase
Vowels & "y" will not have same baseline as consonants
Select one color for entire design
Color will appear darker where letters overlap
Font as shown
Special Delivery
Lines 1-7: Required
Line 1: Uppercase
Lines 1, 2, 6-7: Required, 20 character limit
Lines 3-4: Required, up to 2 numbers
Line 5: Required, up to 2 numbers, 1/2 increment for "inches" available
Select one color for Lines 1, 2 and 6
Select one color for Lines 3, 4, 5 and 7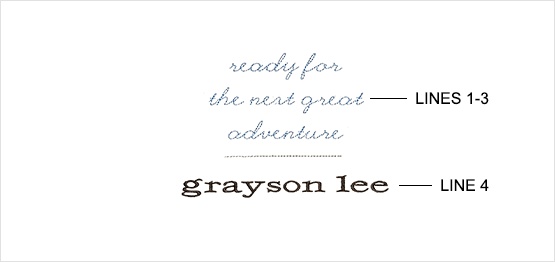 Storytime Stiches
Line 1 & 4: Required, 16 character limit, lowercase
Line 2-3: Optional, 16-character limit, lowercase
Select one color for Lines 1-3
Select one color for Line 4
Platinum dotted line cannot be changed
Font as shown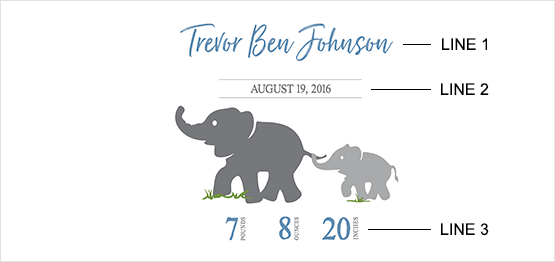 Welcome Baby (Elephant Parade)
Line 1: Required, 20 character limit, uppercase & lowercase
Line 2: Required, 20 character limit, all uppercase
Line 3: Optional, choose up to 2 numbers for "pounds", "ounces" & "inches"
1/2 increment for "inches" available
Choose one color for Line 1 & Line 3
Fonts as shown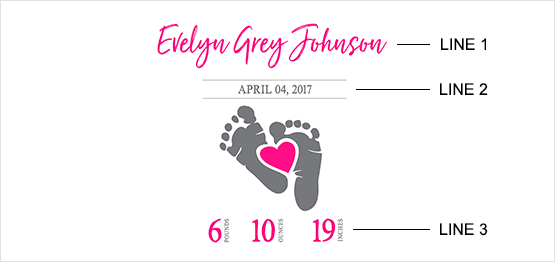 Welcome Baby (Footprints)
Line 1: Required, 20 character limit, uppercase & lowercase
Line 2: Required, 20 character limit, all uppercase
Line 3: Optional, choose up to 2 numbers for "pounds", "ounces" & "inches"
1/2 increment for "inches" available
Choose one color for Line 1, Line 3 & heart
Fonts as shown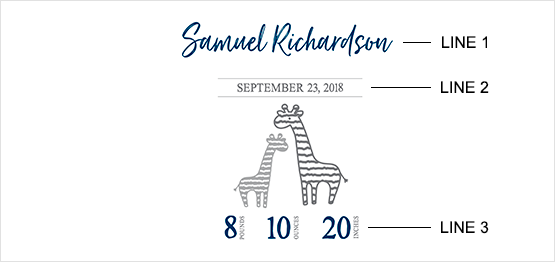 Welcome Baby (Giraffe Duo)
Line 1: Required, 20 character limit, uppercase & lowercase
Line 2: Required, 20 character limit, all uppercase
Line 3: Optional, choose up to 2 numbers for "pounds", "ounces" & "inches"
1/2 increment for "inches" available
Choose one color for Line 1 & Line 3
Fonts as shown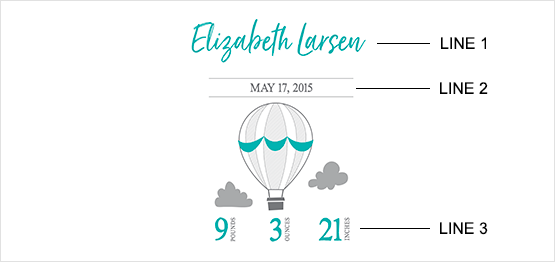 Welcome Baby (Hot Air Balloon)
Line 1: Required, 20 character limit, uppercase & lowercase
Line 2: Required, 20 character limit, all uppercase
Line 3: Optional, choose up to 2 numbers for "pounds", "ounces" & "inches"
1/2 increment for "inches" available
Choose one color for Line 1, Line 3 & hot air balloon detail
Fonts as shown
Additional design options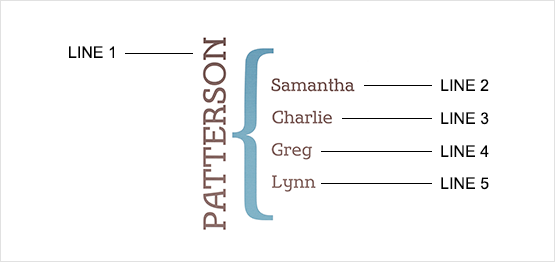 About Us
Line 1: Required, 20 character limit, uppercase
Lines 2-3: Required, 20 character limit, uppercase & lowercase
Lines 4-6: Optional, 20 character limit, uppercase & lowercase
Select one color for bracket and one color for all text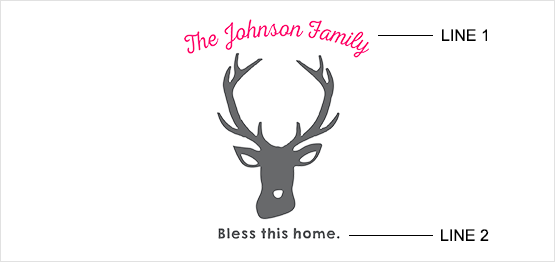 Deer
Line 1: Optional, 20 character limit, uppercase & lowercase
Line 2: Optional, 20 character limit, uppercase & lowercase
Choose one color for deer and a second color for Line 1
Fonts as shown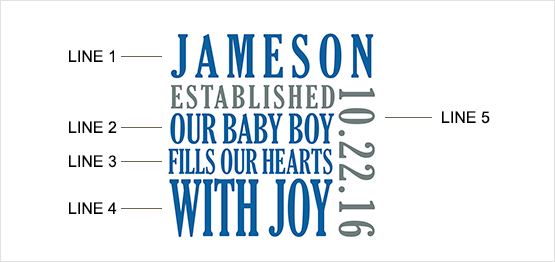 Established
Lines 1-4: 20 character limit, uppercase
Line 5: Date in format shown
Select one color for Lines 1-4
Select one color for "ESTABLISHED" and Line 5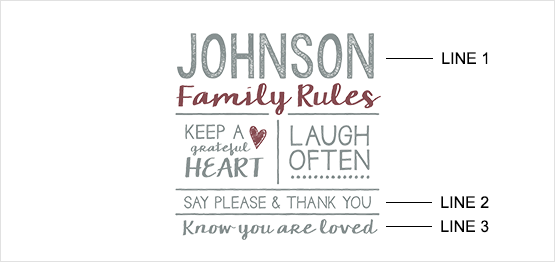 Family Rules
Line 1: Required, 16 character limit, uppercase
Line 2: Optional, 30 character limit, uppercase
Line 3: Optional, 30 character limit, uppercase & lowercase
If text is not chosen for lines 2 & 3 default text shown will be used
Select one color for "Family Rules" and Heart Icon
Select one color for text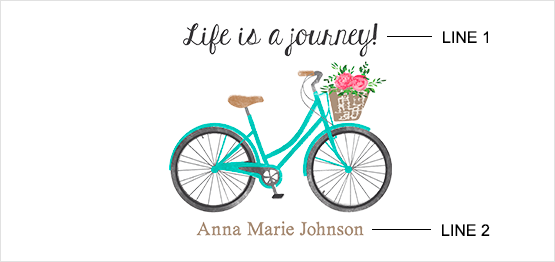 Floral Bike
Line 1: Optional, 20 character limit, uppercase & lowercase
Line 2: Optional, 20 character limit, uppercase & lowercase
Fonts & colors as shown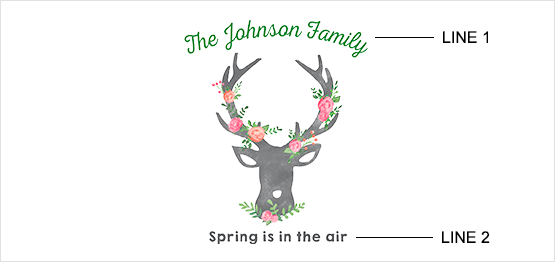 Floral Deer
Line 1: Optional, 20 character limit, uppercase & lowercase
Line 2: Optional, 20 character limit, uppercase & lowercase
Fonts & colors as shown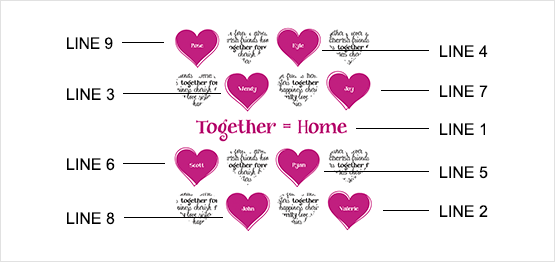 Full Hearts
Line 1: Required, 20 character limit, uppercase & lowercase
Line 2: Required, 12 character limit, uppercase & lowercase
Lines 3-9: Optional, 12 character limit, uppercase & lowercase
Select one color for Lines 1-9
Select one color for remaining hearts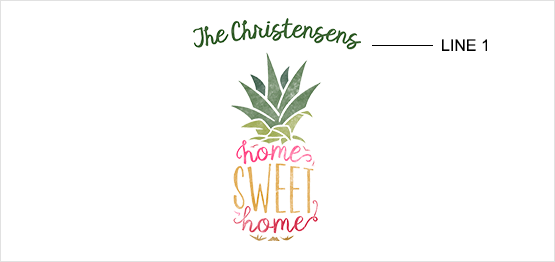 Home Sweet Home
Line 1: Optional, 20 character limit, uppercase & lowercase
Fonts & colors as shown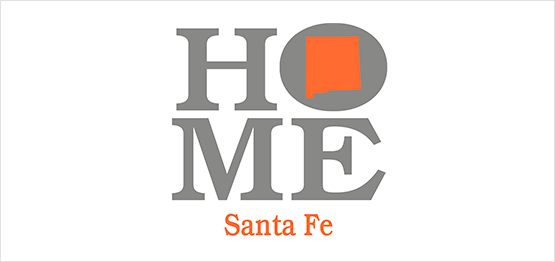 Our Home
Available with or without text
Can add one line of text with up to 20 characters
Select one color for state and "H, M, E"
Select one color for "O" and text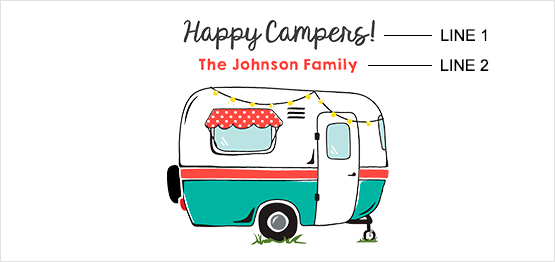 Retro Camper
Line 1: Optional, 20 character limit, uppercase & lowercase
Line 2: Optional, 20 character limit, uppercase & lowercase
Fonts & colors as shown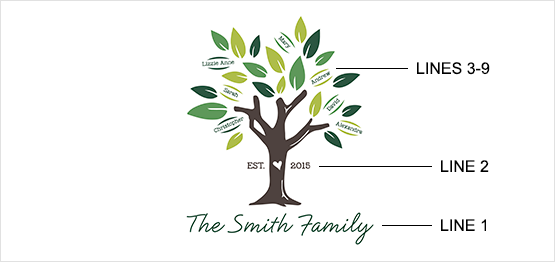 Spring Family Tree
Line 1: Required, 20 character limit, uppercase & lowercase
Line 2: Optional, Choose 4 number, 0-9
Lines 3-9: Optional, 12 character limit, uppercase & lowercase
Fonts & colors as shown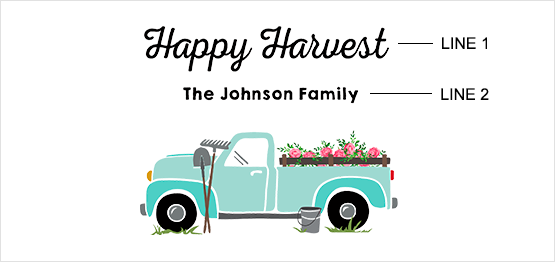 Spring Truck
Line 1: Optional, 20 character limit, uppercase & lowercase
Line 2: Optional, 20 character limit, uppercase & lowercase
Fonts & colors as shown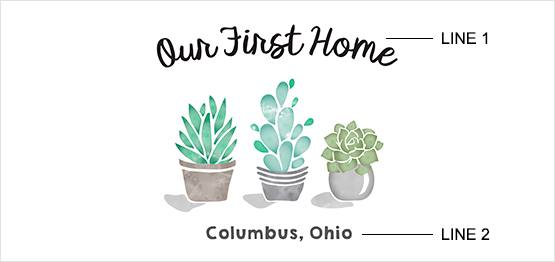 Succulent Trio
Line 1: Optional, 20 character limit, uppercase & lowercase
Line 2: Optional, 20 character limit, uppercase & lowercase
Fonts & colors as shown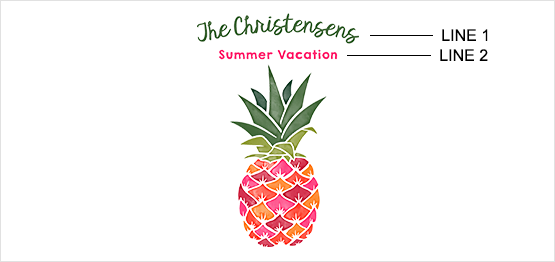 Watercolor Pineapple
Line 1: Optional, 20 character limit, uppercase & lowercase
Line 2: Optional, 20 character limit, uppercase & lowercase
Fonts & colors as shown